What is OneDrive?
Microsoft OneDrive is the University's preferred cloud storage system where you can save, share and edit files.
You can also set up a secure link to receive files.  The Payroll Department has set up the following link to receive Form I-9 from department administrators:  Upload I9 here
Form I-9 should only be sent to the Payroll Department via OneDrive
Did you know that the Payroll Department receives over 10,000 submissions of Form I-9 each year?
OneDrive is a secure, searchable, centralized location for us to receive Form I-9 from over 400 departments.
Even when in person work resumes, please do not walk over Form I-9 to the Payroll Department or send via the mail, campus mail, Filelocker, email, etc.  There is no need to send a duplicate once you send via OneDrive.
Departments Only
This link should only be used by departments when submitting an I-9/preliminary I-9 to the Payroll Department.
If you would like to set up your own secure link to receive page 1/documents from employees, please see this KB article: https://confluence.uconn.edu/ikb/file-storage/onedrive/requesting-a-file-on-onedrive By receiving page 1 and identity documents from your employee via OneDrive while working remotely, it makes it very easily to consolidate with page 2 and upload to the payroll link.
When uploading to the link please enter the employee's name in this field, not your own name, so we may use the search function if needed.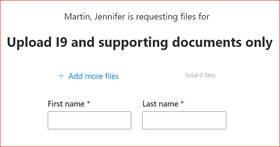 For departments still working remotely, please follow the remote working protocol here: https://payroll.uconn.edu/i-9-protocol-working-remotely/
Please do not upload any other payroll onboarding forms to the OneDrive I-9 link.  We have set up the below OneDrive links to receive other payroll onboarding forms.  These two links below may be shared with employees or you may upload on their behalf.
IMPORTANT: Employees have the option to complete the Federal W4 and Direct Deposit Form directly on the Core CT website (ess.uconn.edu).  No printing/signature is required for these two forms if completed on Core CT.